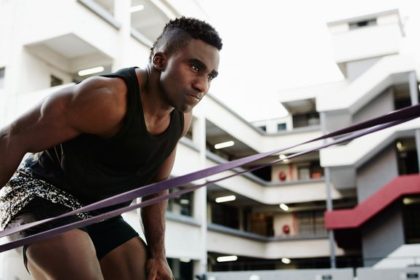 In the world of strength training, resistance bands tend to fly under the radar—especially when compared to heavy hitting equipment like kettlebells and barbells. But that's a fundamental misunderstanding about what you can do with resistance bands. They're lightweight, versatile, and easy to stow in a gym bag or carry-on, making them an ideal choice for the guy who wants to be able to train anytime, anywhere. You can use them on their own, or add them to more standard exercises to vary up your resistance for a more diverse workout.
★Strength Level: Green-X Light, Pink-Light, Blue-Medium, Yellow-Heavy, Black-X Heavy.
★Lesampo resistant bands are made of 100% natural latex and have been tested thoroughly for quality and longevity, Very durable and reliable, which can be repeatedly used and stretched year after year.
★Lesampo resistance mini loop bands have 5 different tension levels, it can perfectly suitable for beginners, intermediate exercisers, and advanced fitness enthusiasts, Each color band corresponds to a different tension, Women, men, and kids all can choose the proper resistance levels that work best for them.
★Lesampo workout bands are not only suitable for sports and fitness at the gym or home but also fit perfectly well for physical therapy. Our stretch bands work especially well for people suffering from leg, knee, and back injuries and perfect for women to keep their shape during pregnancy or after birth. Also for arms, ankles, hips, or shoulders.
★Customer Sevice:100% Lifetime, we guarantee that provide high-quality bands, but if you have any problem with our bands, please let us know, we will try our best to help you resolve it and make you satisfied. For more details, please check
www.fdtrubber.com